If anyone has any photos from this year, please could you e-mail them across so that they can be included on the site. Many thanks, Andrea
Major changes for 2006 season
The Open Superstock Club is opening up a new class, called The Classic Superbike series, which will be Pre 94 Superbikes the idea being to bridge the gap from Superstock to early World Superbikes. The machine to be included are YZF, Air cooled Ducatis, 750 Kawasakis, upside down forked Suzuki's, Fireblades and Exup's to name but a few. See class rules.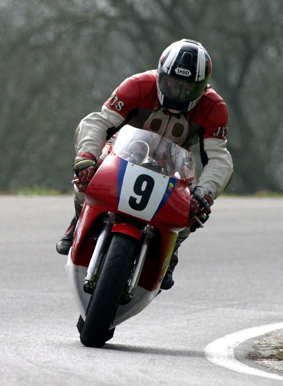 Neil aboard his super quick RC30
The Open Superstock Racing Club would like to congratulate Neil Robinson on becoming the 2005 Open Superstock Championship winner. Well done Neil from everyone. Throughout the season he rode as well as he had for many years, taking fastest lap at most circuits, very rarely off the front row in qualifying including pole position many times. Finishing with an overall win at the last Cadwell meeting. Neil and his trusty RC30 were worthy winners.
FINAL CHAMPIONSHIP STANDINGS
Neil Robinson RC30750 490
Gary Skellett GSXR1100 446
Kieron Hayes GSXR750 297
Jes Haywood RC30750 218
Mark Ess OWO1750 185
Malcolm Bate FZR1000 140
Ray Johnstone GSXR1100 122
Mostyn Bullock GSXR1100 103
Simon Bryant GSXR1100 65
Dean Silvester FZ911 63
Adam Charlesworth GSXR1100 45
Peter Young FZ911 38
Rob Eley FZR1000 18
Steve Spencer FZ888 16
Darren Wood GSXR1100 14
Check out Ray Johnston's new website!
Welcome to the Open Superstock racing club.
Club was formed to give older superbikes the chance of racing again in a competitive class. Primarily introduced to cater for the Superstock type bikes of the late eighties, i.e FZ's, VFR's, GSXR slabsides, the class has now been extended to include later machines i.e. RC30, OWO1, FZR's (pre exup) GSXR and ZXR. Model type and class type are to be found in the new class rules.
For further details of the club, call Steve Spencer on 01277 222258. Or you can email Steve on yamahafz@madasafish.com.
We hope you will enjoy racing with us, please do not hesitate to ring if you have any questions that need answering.
Yours in sport
Steve and Andrea Spencer.
Website Maintained by Will Spencer
Race reports done by Andrea Spencer